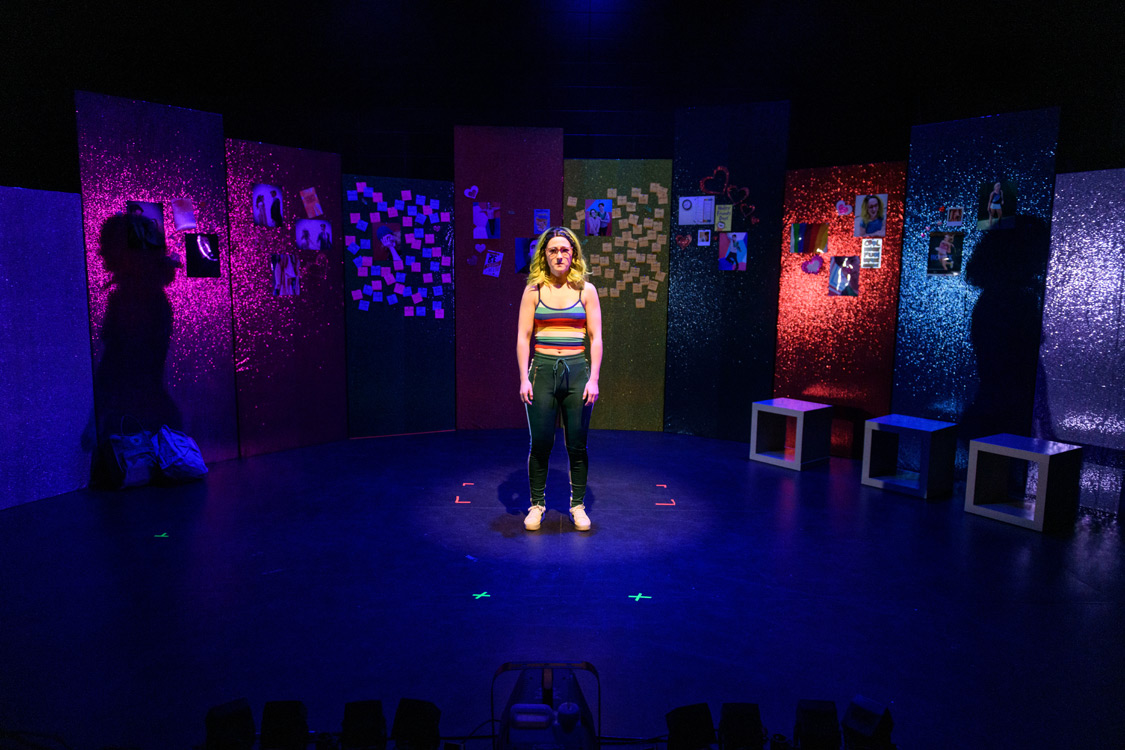 BY ELLEN CHORLEY (EDMONTON)
WORLD PREMIERE OF A NEW WORK
January 10 to 25, 2020
Studio Theatre inside Fringe Theatre Adventures
---
"By the time the Farewell Dance rolls around, there is a whispered frenzy surrounding Robbie. Every girl and a good portion of the guys are convinced that they will be the one to make out with him in a corner."
---
Featuring: Jayce McKenzie & Richard Lee Hsi
Director, Set & Costumes: Trevor Schmidt
Sound Designer: Lana Michelle Hughes
Lighting Designer & Assistant Director: Beth Dart
Stage Manager: Elizabeth Allison
Production Manager: Chris Hicks
Awards & Nominations
NOMINATION
Outstanding Production of a New Play
NLT & Ellen Chorley
NOMINATION
Outstanding Performance in a Leading Role — Comedy
Jayce McKenzie
---
Reviews
Chloe loves Robbie. Everybody does. But Robbie loves Chloe back. They are the star triple-threat couple of their high school drama club and have dreams of their future success together in Musical Theatre (or straight plays, if Musical Theatre doesn't work out). But — speaking of straight — suddenly Robbie wonders if he's gay. And Chloe begins to wonder, too. And what does that mean for their future together?
---
This brand new comedy was first seen as a short piece in Loud & Queer 2014, produced by Workshop West Playwright's Theatre and Guys In Disguise. After seven years with Northern Light Theatre as artistic Associate, we are delighted to have Ellen return to expand her original piece into a full length play and world-premiere of EVERYBODY LOVES ROBBIE!
PLAYWRIGHT
Ellen Chorley
Playwright
Ellen is an Edmonton-based playwright, producer, performer and arts educator. She is the current Festival Director of Nextfest, Edmonton's annual emerging arts festival. From 2009-2017 Ellen served as the Artistic Associate of Northern Light Theatre and she returned in 2018 as the company's Box Office Manager (which is pretty much the same thing, except with less bingos.) As a playwright, Ellen has had her plays produced all over Canada. In 2006, Ellen founded Promise Productions, an independent theatre for young audiences company that has produced plays in theatres, libraries, gymnasiums and under a bridge in the Edmonton river valley. For Promise Ellen has written over 25 new plays for children and teens including the Sterling nominated "The Fairy Catcher's Companion," "Princess Confidential" and "Birdie on the Wrong Bus" and the multiple Sterling award winning "Murielle" which she co- created and co-produced with Blarney Productions. In 2010, Ellen co-founded Send in the Girls Burlesque, Edmonton's award winning burlesque theatre company which examines women in history through a modern day satirical lens. For SITG, Ellen has written and performed in every production the company has created including "A Bronte Burlesque," "Bust 'Em Up Burlesque" "Soiled Doves: A Burlesque With Boots On," "Take It Off Broadway" and the Sterling nominated "Tudor Queens: A Burlesque," "Shakespeare's Sirens" and "With Glowing Hearts." She also had the pleasure of performing at the Edmonton Burlesque Festival and Calgary Burlesque Festival as well as headlining the Itty Bitty Burlesque Festival with Send in the Girls. Ellen teaches acting and playwrighting to ages 8-18 with Foote Theatre School at the Citadel Theatre. Ellen was named one of Edmonton's Top 40 Under 40 in 2013. In her spare time, Ellen collects copies of the novel "Wuthering Heights" by Emily Bronte, she currently has 101 copies. Ellen would like to send her utmost love and thanks to the Trevor Schmidt and Gina Moe, her family, Monster Club pals Mari and Lana, her beloved Thunderpal partner Pete, and legion of arts educators who have influenced her life and her work in the arts.
---
CAST & COMPANY
Trevor Schmidt
Director, Set & Costume Designer
Trevor Schmidt
Director, Set & Costume Designer
Trevor has been the Artistic Director of Northern Light Theatre for the past 18 years, and involved with NLT for the past 27 years as a performer, director, designer, and playwright, as well as being a multiple Sterling award winner. He has been awarded three times for playwrighting, (THE WATERMELON GIRLS, CHANGE ROOM, and FLORA & FAWNA'S FIELD TRIP!), twice for directing (the Canadian premieres of THE 4TH GRADERS PRESENT AN UNNAMED LOVE-SUICIDE and Carol Anne Duffy's THE WORLD'S WIFE) and received the Outstanding Fringe Performance award for the one-man show COFFEE DAD, CHICKEN MOM, AND THE FABULOUS BUDDHA BOI, penned by Nick Green, which toured to New York as part of the FRIGID FESTIVAL. His plays have been produced across Canada and far away as Australia (MABEL STARK!). He has created and choreographed a one-woman dance piece entitled MARKED for the Expanse Dance Festival that was extended and nominated for a Sterling award for Outstanding New Work. He was honored to be awarded for Outstanding Choreography for 6.0: HOW HEAP AND PEBBLE TOOK ON THE WORLD AND WON at the Betty Mitchell Theatre Awards in Calgary, and the DIALOG Award for Excellence in Artistic Direction as part of the Mayor's Evening for the Arts in Edmonton. He is an Artistic Associate of GUYS IN DISGUISE theatre company.
Jayce McKenzie
Chloe & Others
Jayce McKenzie
Chloe & Others
Jayce is beyond excited to be finally working with Northern Light Theatre! She has wanted to collaborate with this amazing team since she graduated from the Theatre Arts Program at Grant MacEwan. Jayce has had the pleasure of working with some amazing theatre companies in Edmonton and has recently been working more in film and television. Jayce received a Sterling Award for her work in Salt-Water Moon produced by Whizgiggling Productions. She was most recently seen in the sterling nominated production for Blood: A Scientific Romance (Maggie Tree).
Richard Lee Hsi
Robbie & Others
Richard Lee Hsi
Robbie & Others
Richard is an Edmonton-based actor, dancer, and educator. In addition to a B.F.A. in Acting from the University of Alberta, he has independently trained in contemporary dance across North America and Europe. His last performance for Northern Light Theatre was in Victoria Martin: Math Team Queen. Some other favorite performance credits include: Small Mouth Sounds (Wild Side Productions); Minerva (Ghostwriter Theatre/Roxy Performance Series); Know The Rules, Win the Game (Cloudsway Dance Theatre/CanAsian Dance); Consent, Paper Song, Are We There Yet?, Under Cover(Concrete Theatre); Shocker's Delight(Teatro La Quindicina); Peter and the Starcatcher, Alice Through the Looking Glass (Citadel Theatre); The Moon at Midnight (Amber Borotsik/Prairie Dance Circuit). He has taught movement for the acting programs at the University of Alberta's B.F.A. Program, MacEwan University Theatre Arts, Opera Nuova, Theatre Alberta's Artstrek, and the Citadel-Robbins Academy Young Company.
Lana Michelle Hughes
Sound Design
Lana Michelle Hughes
Sound Design
Lana is a queer actor, director, playwright, sound designer and producer based out of Edmonton. Selected acting credits include:  Winnie Gertske, Champion Off-Ice (SKAMpede), Loud & Queer Cabaret (Guys in Disguise), The Anxiety Project and The National Elevator Project (Theatre YES), Dead Centre of Town (Catch the Keys Productions), Birdie On The Wrong Bus and The Fairy Catcher's Companion (Promise Productions), Love(her)/Fight(her) (Urban Curvz), The Laramie Project (Citadel Theatre), Going Down… and Target Audience (Running In Heels Productions), and No Wonder(land) (Nextfest). Selected directing credits include: 50 First Dates (Spins Like a Top Productions), Jack & The Beanstalk (Alberta Musical Theatre Company), The Remarkably True, Real Life Adventures of Callie Montgomery (Promise Productions/Skirts of Fire Festival),  Encounters (Citadel Theatre), Soiled Doves, Bust 'Em Up Burlesque, The Hollywoodland Burlesques, A Bronte Burlesque, and Tudor Queens: A Burlesque (Send In The Girls Burlesque), and Two Seconds To Paradise (One Story Window Theatre). She also spends her days as the Associate Managing Director for Catalyst Theatre.
Beth Dart
Lighting Design & Assistant Director
Beth Dart
Lighting Design & Assistant Director
Beth is an Edmonton based director, producer, lighting designer and theatre collaborator. Previous Northern Light Theatre credits include lighting design for THE CARDIAC SHADOW, DO THIS IN MEMORY OF ME and SLUT. She is the co-artistic producer of award-winning indie theatre company Catch the Keys Productions, best known for DEAD CENTRE OF TOWN, an annual site-specific theatre experience inspired by the true crime and ghost stories of Edmonton's past, and the recipient of an Award of Excellence in Interpretation from Interpretation Canada. She is the co-artistic producer of Common Ground Arts Society and Found Festival, Edmonton's only multidisciplinary found space and site-specific arts festival.  Select lighting design credits include CONVERGENCE (Good Women Dance Collective, 2013-2018), DEAD CENTRE OF TOWN (Catch the Keys Productions, 2007-2014), OVER HER DEAD BODY (Small Matters Productions), and SNOUT (Catch the Keys Productions).  She has directed over 20 new works, including OCD, FUNCTIONAL, and GEMINI by Louise Casemore (Defiance Theatre), 900 SECONDS by Christine Lesiak (Small Matters Productions), JEZEBEL AT THE STILL POINT by Ainsley Hillyard (Bumblebear Productions), FOSSEGRIM & NØKK by Leif Ingebrigtsen and Megan Dart (Alberta Opera), and SNOUT (Catch the Keys/Azimuth) and URSA MAJOR (Catch the Keys/Workshop West Playwrights' Theatre) by Megan Dart. Next up, Beth will be co-creating an immersive musical, VAULT, with local playwright Megan Dart and local singer-songwriter Lindsey Walker.
Elizabeth Allison
Stage Manager
Elizabeth Allison
Stage Manager
Elizabeth was born and raised in Edmonton and has spent most of her adult life working in theatre here. Mostly as a Stage Manager but also as a Costume Designer/Builder, Arts Administrator and every once in a while an actress. After attending both the Theatre Production and Theatre Arts programs at MacEwan University, she spent the better part of her first year out of school playing the role of Jan in Grease at all of the Canadian, Stage West stages, (at that time Edmonton, Calgary and Missasauga). Her history with Northern Light Theatre also goes way back. The first performance she remembers seeing as a child was a production of Winnie The Pooh, which was a part of NLT's inaugural season, this was just the beginning of her love of Edmonton Theatre. She was on the board of NLT from 1995 to 2003, including the role of Board President for two years and she has stage managed many productions for them over the last two decades including, Love, Some Girl(s), Speech and Debate, The 4th Graders Present An Unnamed Love-Suicide, Slut, 19 Weeks, Origin of the Species, Baroness Bianka's Bloodsongs and Everybody Loves Robbie. She has worked at almost every theatre company in town at one time or another including being the Sterling Nominated Costume Designer for Peace, Love and Rock'n'Roll 2, at The Mayfield Dinner Theatre, where she was a part of the costume team for over a decade. Thank you for supporting the Edmonton Theatre Community.
Chris Hicks
Production Manager
Chris Hicks
Production Manager
Chris Hicks – but mostly just known as Hicks since there is a saturation of Chris' in the world – is a seasoned theatre and festival production creator. He's worked a ton of major festivals in Edmonton and beyond from dinosaur building to downhill canoe racing on snow. Graduating from the MacEwan Theatre Production program 9 years ago, Hicks is still making art happen and enjoys it!
After joining the Northern Light Theatre team 2 years ago and being involved in every show in last season, Hicks is once again pleased to be transforming the space into the powerful shows you are viewing this year.
Ruth Dyck Fehderau
Salon Facilitator
Ruth Dyck Fehderau
Salon Facilitator
Ruth teaches Creative Writing and English Literature at the University of Alberta for a few months of each year. The rest of the time she travels and writes fiction and non-fiction. She lives in other cultural environments as often as possible. Her work appears in publications around the world and she has won awards for teaching, for writing, and for activism. Her recent book, The Sweet Bloods of Eeyou Istchee: Stories of Diabetes and the James Bay Cree (2017), has won or been shortlisted for seven literary awards. Her website is www.ruthdyckfehderau.com.
An Interview with Ellen Chorley
Tell us a bit more about EVERYBODY LOVES ROBBIE — from it's first incarnation to its upcoming show.
I first wrote "Everybody Loves Robbie" as twelve minute short play for Guys in Disguise's Loud and Queer Festival in 2014.  The short piece focused on the relationship between Chloe and Robbie in the "present" but didn't include the beginning of their relationship or their past.  The piece was read by my dear friends Lana Hughes, April Banigan and Mat Hulshof and directed by Trevor Schmidt.  We just had an absolute blast putting on the piece and it seemed to have a really good reception with the audience.  I sort of kept the little play in my back pocket thinking I would include it in collage –type script I was writing called "All Our Friends Are Sad," which was planned to include a number of short plays dissecting sadness.  That play is still on the back burner.  Trevor and Gina approached me to build out the piece I started to expand the narrative into a full length piece to examine Chloe and Robbie's relationship for a longer period of time- to really see their love story.  We had a super fruitful workshop in July (2019) to develop the script further and now we are at the world premiere.
What was your initial inspiration for the story of EVERYBODY LOVES ROBBIE?
I don't know if a story element was the initial inspiration, but more like a … feeling?  I think that regardless of what kind of relationship they are in, everyone has been in a relationship where the rules have suddenly changed without you knowing. It feels like the rug has been pulled out from underneath you.  The feeling of "but I didn't do anything- why has our relationship changed?" has happened to me A LOT, and I think I wanted to investigate that feeling.  I think "Everybody Loves Robbie" really dives into that idea:  how does a relationship change, if someone's identity changes?
Everyone will want to know — is there a real Robbie?
Sort of.  Robbie is based on a number of friends I had in high school and in theatre school.  I think everyone's late teens and early twenties are a time of revelation and investigation of one's identity.  I got to witness many of my queer friends go though this investigation.
You've written a lot of theatre pieces for high schools and drama training programs.  How does this script differ from writing a TYA (Theatre for Young Audiences) script?
Well, there are a lot of fucking swears in this one. But seriously, I think the difference between this script and others that I have written for young actors to perform is I get to do less.  There are far more moments of vulnerability and quiet reflection written into "EVERYBODY LOVES ROBBIE" then other scripts because for these actors, I don't need to spell everything out.  For younger actors or theatre students, I would likely have to have the actor say "I am sad," whereas in this play, the actors can figure it out with out the playwright telling them.
People will likely assume this is at least partially autobiographical. Give us a number between one and ten of how autobiographical it is (we'll put it on a post-it).
Six or seven?  The main story elements are made up, but the little story elements like having whooping cough during the summer between grade nine and ten, watching "Anne of Green Gables," winning a radio contest from the musical show on CKUA and wondering if I was the only person listening, going to the classic musicals at the museum and using peanut shells to decorate the set are all true.
Your love for drama teachers and drama kids is evident through out. What's the experience that "hooked" you into drama as a young person.
I think I have a lot of experiences that hooked me, but ultimately doing drama (and all different types of arts) allowed me to find a place where I belonged.  I think that is why arts education is so important. The point of arts education is not to make a bunch of kids into professional artists (if that happens… great), instead it is to give kids important life skills like accountability, work ethic, social skills, creative problem solving, and empathy.  We need those skills just as much to be a lawyer or an engineer or a computer programmer as we do to be an actor or an artist.
What are your three favourite musicals – and your dream role?
Songs for a New World by Jason Robert Brown
Into the Woods by Stephen Sondheim
Gypsy by Jule Styne and Stephen Sondheim
Dream role?
Mama Rose in Gypsy, Horatio in Hamlet