What we have in
this newsletter:
---
NORTHERN LIGHT THEATRE ANNOUNCES OUR 2019-2020 SEASON
EARLY BIRD SUBSCRIPTIONS ARE ON SALE NOW
THE ART OF CAKE (AND THEATRE) FUNDRAISER!  WHAT A NIGHT!
19 WEEKS BY EMILY STEEL a Co-Production with AZIMUTH THEATRE OPENS MARCH 29, 2019  - DON'T MISS THIS BEAUTIFUL AWARD WINNING PLAY
NLT's NINTH ANNUAL ONLINE AUCTION GOES LIVE MARCH 25, 2019
VOLUNTEER FOR NLT – BATTLE FOR THE LIMELIGHT IS COMING!
WHAT'S ON IN THE THEATRE DISTRICT
NLT ANNOUNCES
OUR 2019-2020 SEASON
CONFESSIONS & OBSESSIONS!
EARLY BIRD SUBSCRIPTIONS
ON SALE NOW
North American Premiere
October 18- November 2, 2019 Studio Theatre ATB Financial Arts Barns
Preview October 17, 2019
Featuring: Kristin Johnston as Baroness Bianka
Director Set & Costumes: Trevor Schmidt
Music Direction and Sound Design: Darrin Hagen
"There it vas – my birthmark, the mark of the beetroot upon my thigh.
That is a sure sign of curse of the madwoman's descendant. Ven a voman witt the curse of the beetroot turns 50 and cease to menstruate, she vill begin the blood madness. She vill begin the quest for eternal youth. She vill vont to ingest the blood and she vill even kill for it. "
BARONESS BIANKA'S BLOODSONGS tackles the issue of addiction head-on through the revelations of a quirky Bulgarian Baroness who has unquenchable, unspeakable yearnings. A black comedy with a blood-red heart, the show explores life with an unusual addiction and the battle to overcome it. A wicked one-woman cabaret about a spooky character with a fetish for blood.
Battling her bizarre addiction while accompanying herself on the instrument from her mythical homeland, Baroness Bianka yearns to live a normal life free from the passions that plague her. Is the Gypsy right? Does she really carry the Mark of the Beetroot and if so, what does it mean for the Baroness and the people she encounters? Despite the specific references to hemophilia and darkly comic elements, underneath it all lies common struggles with any addiction. Songs of blood are the way towards healing and self-acceptance in this North American premiere of the tenth one-woman show from award winning songwriter Joanna Weinberg.
Last seen as Victoria in NLT'S THE ORIGIN OF THE SPECIES, Kristin Johnston will be taking on the titular role in our season opener, BARONESS BIANKA'S BLOODSONGS. Self-accompanied on the accordion, we look forward to Ms. Johnston's comedic timing and considerable musical skill in bringing this quirky romantic character to life. This dark comedy is perfectly timed to coincide with Halloween in 2019, and NLT's second annual Frank n' Stein fundraiser.
Cabaret Seating
---
World Premiere of a New Work by and Edmonton Playwright
January 10, 2020 – January 25, 2020 Studio Theatre ATB Financial Arts Barns
Preview January 9, 2020
Featuring: Jayce Mackenzie, Richard Hsi Lee
Director: Trevor Schmidt
"ROBBIE: Are you a lesbian?
CHLOE: Are you gay?
ROBBIE & CHLOE: I don't know.
CHLOE: We say at the same time. Then Robbie settles on a maroon V-neck and I buy a violet sports bra. And together we make a plan to figure it out before Limelight North."
"By the time the Farewell Dance rolls around, there is a whispered frenzy surrounding Robbie. Every girl and a good portion of the guys are convinced that they will be the one to make out with him in a corner. "
Chloe loves Robbie. Everybody does. But Robbie loves Chloe back. They are the star triple-threat couple of their high school drama club and have dreams of their future success together in Musical Theatre (or straight plays, if Musical Theatre doesn't work out). But- speaking of straight- suddenly Robbie wonders if he's gay. And Chloe begins to wonder, too. And what does that mean for their future together?
This brand new comedy was first seen as a ten-page rehearsed reading at Loud & Queer 2014, produced by Workshop West Playwright's Theatre and Guys In Disguise. We are delighted to have Ellen Chorley expanding her original piece into a full-length play for NLT's 2019-2020 season.
---
World Premiere
March 27, 2020 - 10, April 11, 2020 Studio Theatre ATB Financial Arts Barns
Preview March 26, 2020
Featuring: Brian Dooley and Davina Stewart
Director: Trevor Schmidt
"That was not the deal. That was not the plan. You dying first is not the plan. You can't leave me with him, I'd rather be an orphan. I can't hold his hand and bring him juice and clean up his shit and tell him he's going to be all right. He's not! He's not all right! He'll tease me and call me fat and make fun of the way I walk and talk and you can't leave me with him. I'd rather be an orphan. I won't do it."
Mae, a struggling young actress, loses both of her parents to cancer. Peggy- her kind, peacemaker mother- dies of cancer in 1995. Six years later, when Mae moves back home to care for her terminally ill father. She imagines moments of reconciliation, but unlike Peggy, Al does not handle his cancer treatment with grace and Mae struggles in her role as his caregiver. As her father's health declines, his obsession with the Sci-Fi Network and creating a machine to deliver him to another dimension intensifies. Mae summons memories of her mother for guidance, and with humor and compassion strives to reach her final goal...to give her father a good death.
This moving play chronicles the writer's experience as caregiver to her mother and father before their deaths due to cancer. CONFESSIONS OF A RELUCTANT CAREGIVERhas now become part of the medical school curriculum in Ohio and is performed for students every year when they study geriatrics. CONFESSIONS OF A RELUCTANT CAREGIVER demonstrates on a personal level how families transition when faced with an incurable illness and illustrates with humor and compassion the importance of having discussions that focus on palliative care, hospice, and end of life issues. This script was the winner of the Jane Chambers Student Playwriting Award and a finalist in the Kendeda Graduate Playwriting Competition (Alliance Theatre, Atlanta) and the Princess Grace Award in Playwriting. It has been adapted into a feature length film. The Passageway.
THANK YOU TO EVERYONE
WHO CAME OUT FOR
THE ART OF CAKE
(AND THEATRE)
FUNDRAISER!
So many people braved Edmonton's chilly weather to come out for our season launch event at the Art of Cake on February 9th.
Thank you to Gloria and her staff at the Art of Cake for letting us host this event in this beautiful space. And for the delicious cupcakes they created to compliment each of the three plays we will be producing next season.
These red velvety cupcakes were a divine treat to go along with the reading from Baroness Bianka's Bloodsongs.
The whimsical Funfetti cupcakes for Everybody Loves Robbie were the favourite of the evening and snatched up quickly. A beautiful compliment for this coming of age play and love letter to high school drama programs, fine arts students and their teachers.
This rich dark chocolate classic was the perfect comforting match for Confessions of a Reluctant Caregiver.
Special Thanks to our creative team for a wonderful evening: Artistic Director Trevor Schmidt, Playwright Ellen Chorley, and artists:  Darrin Hagen, Cheryl Jameson, Kristin Johnston, Richard Hsi Lee, Jacye Mackenzie, Jake Tkaczyk, and Davina Stewart, and NLT's Board of Directors for this splendid evening of laughter and indulgence as we announced the three plays that will make up our 2019-2020 season.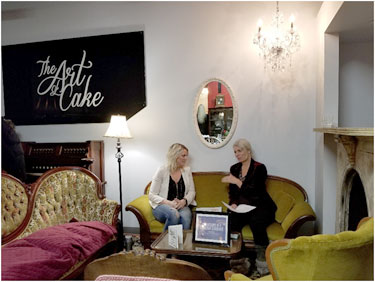 ---
THANK YOU ART OF CAKE
The Art of Cake, located on 11811 - 105 Avenue, is more than an artisan bakery and tea room. Filled with an eclectic collection of vintage furniture and décor, it offers a cozy, nostalgic respite.
We highly recommend The Art of Cake's traditional English High Tea, held on select Sundays of each month that includes a three-tiered tea tray brimming with finger sandwiches, sweets & pastries, served alongside fresh scones, clotted cream, strawberry preserve & bottomless pots of Crème de Earl Grey tea.
GET YOUR
EARLY BIRD SUBSCRIPTION
BEFORE APRIL 15, 2019
Early Bird Subscriptions for our upcoming season are on sale now through NLT's website and over the phone by calling 780-471-1586.
There are so many perks to being an NLT subscriber including specially reserved seating, the opportunity to bring one guest to the play of your choice each season, as well as being included in special ticket and prize draws and discounted tickets with NLT's community and artistic partners.
Early Bird Subscription Prices:
Opening: $75.00
Adult: $70.00
Student/Senior: $50.00
Thursday Preview Performance/Sunday Matinee: $40.00
DON'T MISS YOUR
CHANCE TO CATCH NLT'S CLOSING SHOW OF
THE 2018-2019 SEASON,
19 WEEKS in CO-PRODUCTION WITH AZIMUTH THEATRE

19 WEEKS by Emily Steel
(Canadian Premiere)
March 28 – April 13, 2019
The Studio Theatre in the ATB Financial Arts Barns 10330-84 Ave
Featuring Vanessa Sabourin
19 weeks has now won the following awards:
Jill Blewett Playwright's Award - Adelaide Festival Awards for Literature 2018
Melbourne Fringe Tour Ready Award - Adelaide Fringe 2018
Best Show - Adelaide Theatre Guide 'Curtain Call' Awards 2018
Best Theatre Award - Adelaide Fringe 2017
19 weeks is currently a finalist in the BBC Audio Drama Awards for Best Original Single Drama
---
The words are rattling because the story is real. Everyone knows someone who has had an abortion or lost a pregnancy - even if they don't talk about it. In 2016, playwright Emily Steel had a termination after her baby was diagnosed with Down Syndrome. This is her story, told honestly and publicly, because there are so many more stories out there. We want 19 weeks to be part of a bigger conversation.
"I made the decision that I was going to tell people the truth about what happened because keeping quiet about such a traumatic experience would have felt like even more of a burden. My fear was that people would think I was a horrible, heartless person, and I had to process those feelings myself, but how people are going to perceive you cannot alter your decisions about the course of your life.

For the most part, my fears did not come true. The response of so many women was to tell me stories of their own abortions or miscarriages, and that was a huge part of the inspiration for the play. There is a lot of controversy about late abortions, but it's not until you go through that process that you realize how much time it can take to do what you think is the most responsible thing."
- Emily Steel
Performance Dates
Thursday, March 28, 2019, 7:30PM Preview
— Pay What You Can
Friday, March 29, 2019, 7:30PM Opening
Saturday, March 30, 2019, 7:30PM Performance
Sunday, March 31, 2019, 2:00PM Matinee
— Preshow Director's Circle Event
Sunday, March 31, 2019, 7:30PM Performance
Tuesday, April 2, 2019, 7:30PM Performance
— NLT 2 for 1 Ticket at the door
Wednesday, April 3, 2019, 7:30PM Performance
— Post Show NLT Guest Speaker Salon
Thursday, April 4, 2019, 7:30PM Performance
— Post Show Actor Talk Back
Friday, April 5, 2019, 7:30PM Performance
Saturday, April 6, 2019, 7:30PM Performance
Sunday, April 7, 2019, 2:00PM Matinee
Sunday, April 7, 2019, 7:30PM Performance
Tuesday, April 9, 2019, 7:30PM Performance
— NLT 2 for 1 Ticket at the door
Wednesday, April 10, 2019, 7:30PM Performance
Thursday, April 11, 2019, 7:30PM Performance
Friday, April 12, 2019, 7:30PM Performance
Saturday, April 13, 2019, 7:30PM Closing
COMING SOON...
We are so excited to unveil this year's auction and to promote the many great Edmonton Businesses that continue to support the arts in Edmonton.  If you are a business that would like to make a donation to this year's auction – please call our office and let us know.
VOLUNTEER OPPORTUNITIES
We are still looking for volunteers for our upcoming Bingo dates, and ushers for 19 WEEKS.  And we will be looking for 60 volunteers for the Battle for the Limelight May 25, 2019!
Upcoming Bingo Dates at Caesar's Palace WEM
Wednesday March 20, 2019 5pm-9:45pm
(8 volunteers needed)
All volunteers receive a complimentary ticket to see an upcoming NLT production.
To volunteer for one of our upcoming Bingos or Usher during our performance runs please email Gina Moe at gina.m@northernlighttheatre.com
WHAT'S ON IN OLD STRATHCONA'S THEATRE DISTRICT
As an active partner in Old Strathcona's Theatre District, Northern Light Theatre is working hard to find new creative ways that we can collectively work together, boost each other's success and create a stronger voice for the arts in Edmonton.  We are dedicated to not only telling you about NLT, but all of the companies, professional and indie that work and perform in Old Strathcona as well as the companies who are collaborating with Northern Light Theatre.
---
THEATRE NETWORK
We Are Not Alone
Written & Performed by Damien Atkins
February 14 – March 3, 2019
A Crow's Theatre and Segal Centre for Performing Arts Production
In partnership with 2b Theatre Company
Do you believe in UFOs? Aliens? Government conspiracies? Join Damien Atkins in his return to Edmonton as he puts himself through a quest for truth. This personal story takes us to Roswell, New Mexico, The International UFO Congress, and in search of inter-dimensional portals in the Arizona desert. Through Damien's hilarious and honest portrayal, we are introduced to individuals all around North America who want their stories to be heard and believed.
Theatre Network Live at the Roxy - The Roxy on Gateway
8529 Gateway Blvd
780-453-2440
Tickets
---
Varscona Theatre
MESA
by Doug Curtis
Feb 21 – Mar 2, 2019
Staring Richard Lee, Julien Arnold, Cathy Derkach
Directed by Patricia Darbasie
Calgary's Doug Curtis takes us on a hilarious and moving road trip from Alberta to Arizona!  Paul had agreed to accompany his wife's aging Grandpa Bud on his annual autumnal pilgrimage, and what commences on a daunting note becomes riotous and life-changing.
Varscona Theatre
10329 – 83rd Ave.
Tickets: 780-434-5564 or here
---
SHADOW THEATRE
LUNGS
by Duncan Macmillian
March 13th to 31st 2019
Staring Chris Bullough and Beth Graham
Directed by Jon Lachlan Stewart
The world is getting hotter, there's unrest overseas – the seas themselves aren't very calm- and one couple is thinking about having a child.  LUNGS is a smart and funny drama that follows a couple through the surprising lifecycle of their relationship as they grapple with questions of family and change, hope, betrayal, happenstance, and the terrible pain that you can only cause the people you love
Varscona Theatre
10329 – 83rd Ave.
Tickets: 780-434-5564 or here
---
GRINDSTONE THEATRE
Grindstone Theatre's performance venue offers an intimate 75 seat theatre with licenced restaurant, producing 14 shows a week open 6pm to late, Tuesday to Sunday.
Well known for their improvised musical the 11 O'clock Number! Grindstone Theatre produces main-stage plays, musicals, and sketch comedy. They offer public access classes, provide school workshops, corporate entertainment and offer monthly events such as The Open Improve Jam.
Grindstone Comedy Theatre
10019 -81 Ave
(780) 244-9076
Learn more about their nightly programing at: https://www.grindstonetheatre.ca
SUBSCRIBE
TO OUR
E-NEWS!
NLT'S
2018-2019
SEASON!
SUPPORT
LOCAL
THEATRE